Dinner Set Reactive Glaze Romantic Lemon Tree Hand Made Large Plates Microwave Safe
Product Detail
Product Tags
Inspired by lemon tree, romantic yellow and green give us a spring feeling . The pure yellow and green with semi-matte reactive glaze, combined with glossy lemon pattern could mix and match the color.
This series has kinds of combinations, like whole lemon series as our picture showed. It is suitable for a variety of styles. American style, neo classicism, European style and Chinese style can be matched perfectly. Elegant, stable and luxurious, good materials, exquisite workmanship, it has grade and taste as well. You can use it a gift, specially for wedding gift.
Normal exporting packing, mail box packing and gift box packing can be customized.
We will attend the Canton Fair twice every year, welcome to meet us face to face.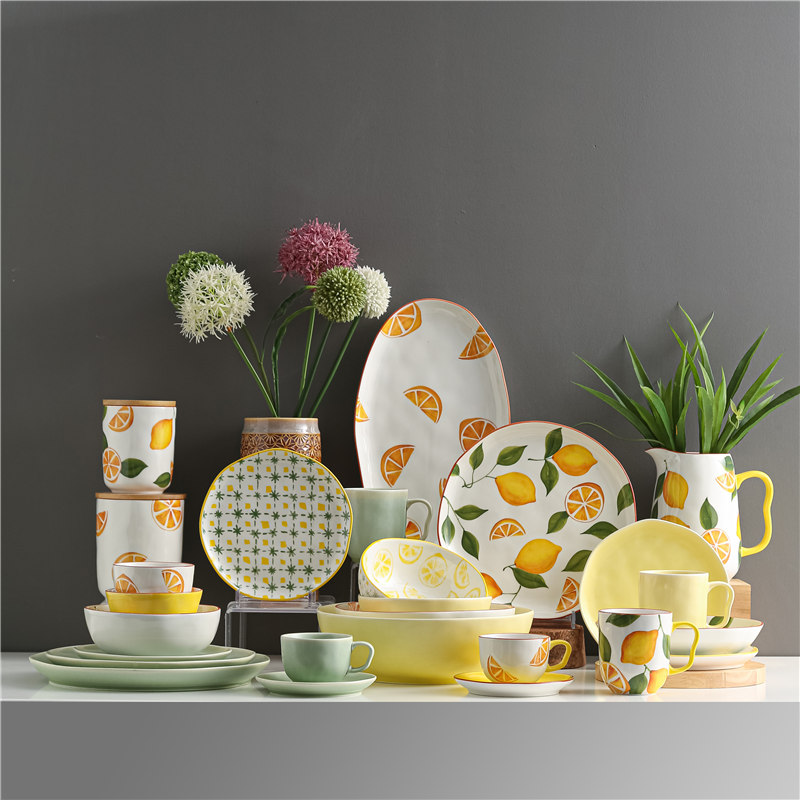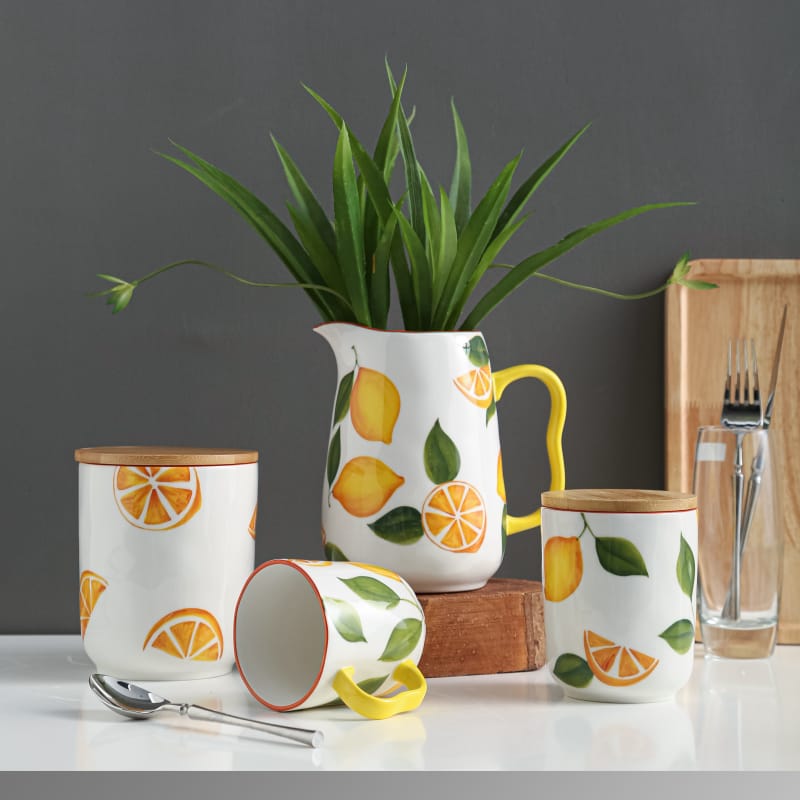 The bright and joyful shade of yellow can represent the warmth and sunshine of spring, while the fresh and natural green can symbolize growth and renewal. When combined together, these two colors create a fresh and harmonious palette that can feel romantic and invigorating. The lemon tree is also a perfect symbol of this combination, with its bright yellow fruit and lush green foliage. Overall, incorporating yellow and green into your dinning can bring a sense of springtime freshness and happiness into your life. The semi-matte reactive glaze on the yellow and green pieces would give them a slightly textured and organic look, creating a feeling of warmth and coziness. The glossy lemon pattern could add a pop of brightness and playfulness to the overall design, making it more lively and eye-catching.
Having different sizes for the dinnerware, platter, large bowl, canister, butter dish, baker, and oval plate is very practical and useful for different occasions and purposes. The variety in sizes allows you to serve different portion sizes, store various ingredients, and present your food creatively. It can also add to the aesthetic appeal of your dining experience, making it more sophisticated and attractive. You can mix and match the different pieces to create a cohesive and stylish look for your table setting.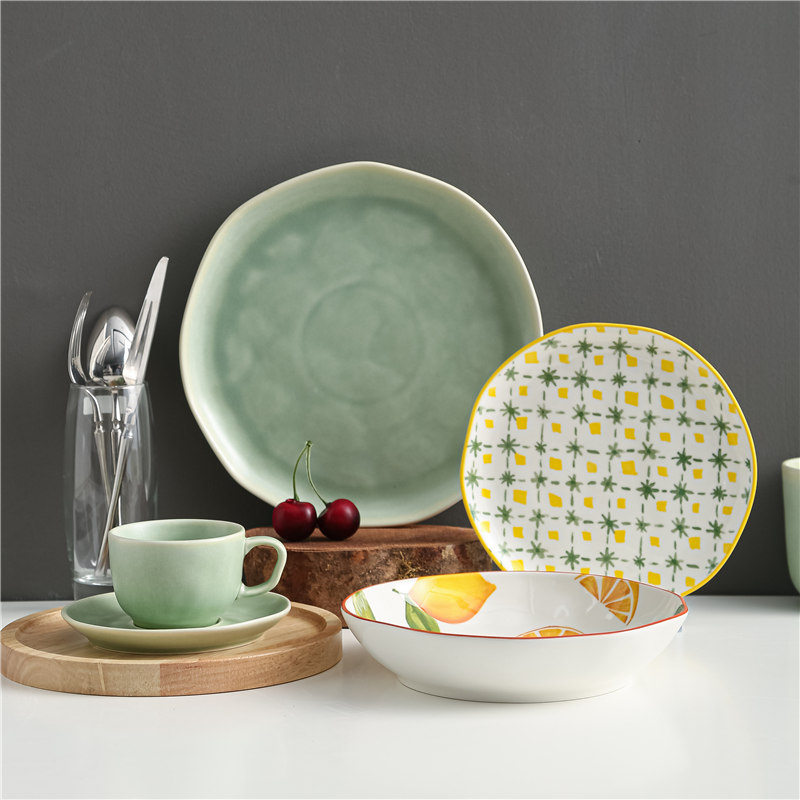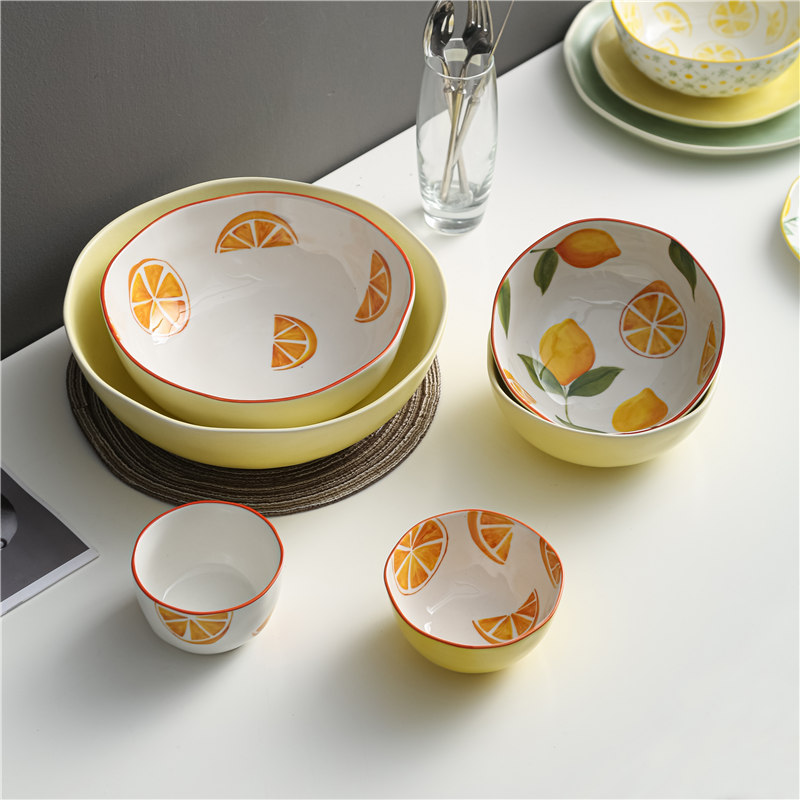 The versatility of this series makes it a great fit for different interior design styles and outdoor party . The combination of stability, luxury, and elegance can create a sophisticated look that would match various design preferences. Moreover, the idea of gifting it for weddings is brilliant since it's thoughtful, elegant, and practical. It would be a satisfying and memorable present for any newlywed couple.
Subscribe to our email list to get information about our latest products and promotions.
---
Next:
American Style Set of 3 Baker Storage Pot with Bamboo Lid and Oval Plate Butter Dish for Kitchen
---