Product Detail
Product Tags
The inspiration for the design concept mainly comes from thinking and feeling about the epidemic situation. Entering the "post epidemic era", people's lives have been greatly changed, increasing uncertainty about the future, and breeding anxiety, anxiety, fear, and other emotions. Based on this, designers are thinking about how to make people's mentality, mood, and soul become more relaxed and calm through design creation, smile with positive energy every day, and adapt to such a post epidemic period in the sunshine.
In terms of craftsmanship, designers have abandoned traditional processes such as dipping and spraying glazes, and instead boldly adopted the method of sprinkling glazes to decorate, using bright orange, yellow, green and low-key light gray blends naturally, embellished with gold from the gilding process, and advocated the concept of actively facing the unknown and healthy living with new designs and processes. For a new life in the post epidemic era, ignite a happy, positive, romantic and upward spark!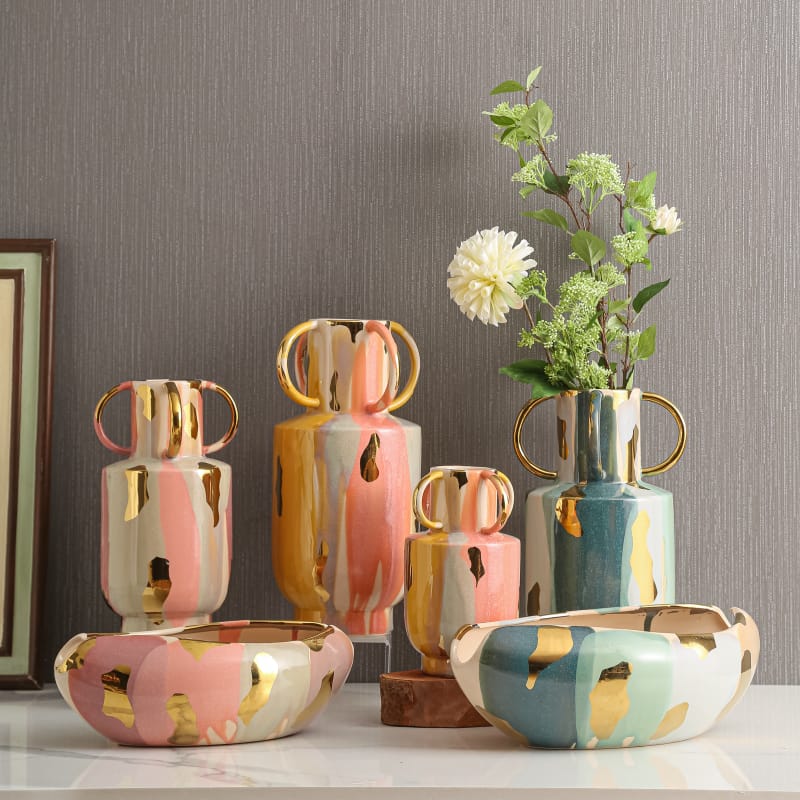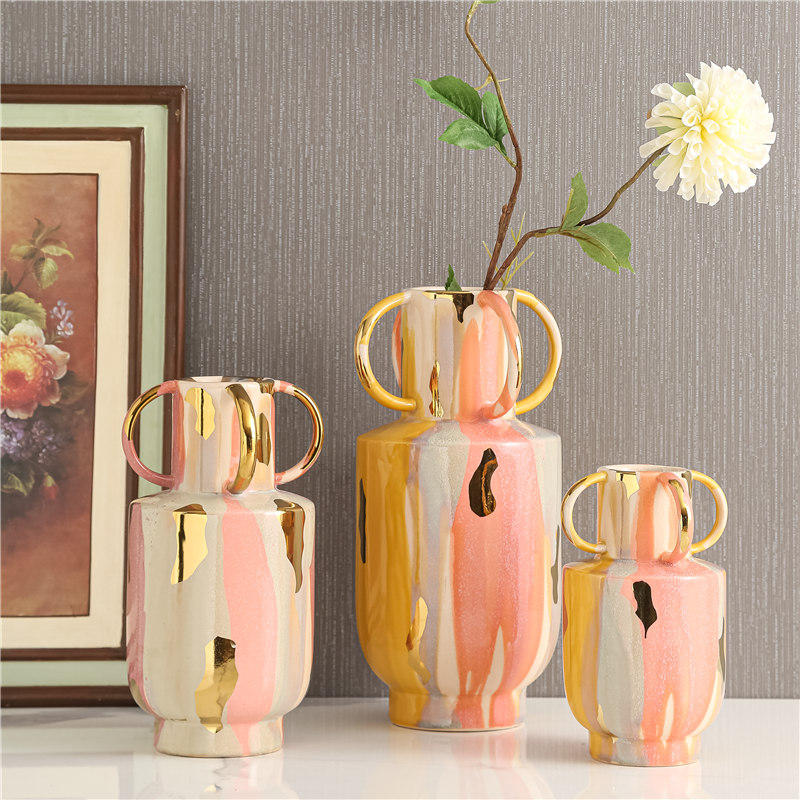 This ceramic interior set includes vase and fruit bowl.Light luxury ceramic collection for home decoration & household accessories .Suitable for hotels, villas, clubs, model rooms, entertainment places, simple household. Gold plating skill, clean color, bright finishing can be kept forever.
This series has kinds of combinations, any color can be made according to PANTON CODE, gold plating can be changed to silver plating also.Each vase is carefully selected. After several times QC inspection, sure that each pc is high quality finishing with good strong packing. Any shape you like all can be made this design.Normal exporting packing, mail box packing and gift box packing can be customized.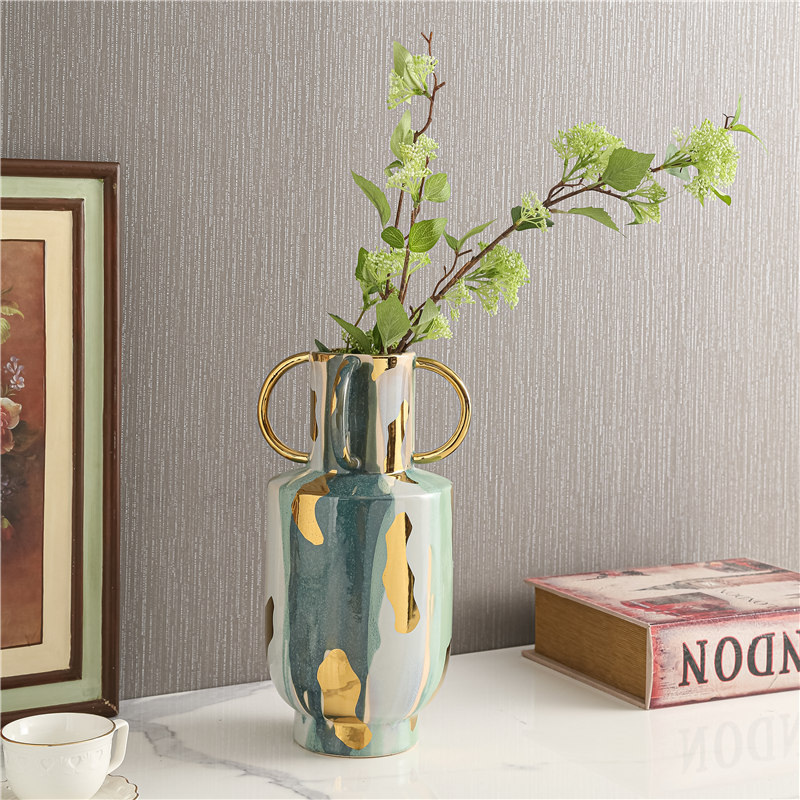 Introducing our new product that is sure to bring positive energy, sunny vibes, and a happy, positive, and romantic life back into your daily routine. Our designers have taken a bold step in creating this innovative piece by abandoning traditional methods and incorporating new techniques to create a truly unique and visually appealing item.
The process of sprinkling glaze has been skillfully utilized to create a beautiful fusion of bright orange, yellow, green, and a low-key light gray color scheme. The addition of a gold plating process adds an extra touch of elegance and enhances the overall visual appeal of our product.
Inspiration for our design concept comes from the post-epidemic era we now find ourselves in. Lives have changed significantly, and uncertainty about the future has led to feelings of anxiety, insecurity, and fear. Our designers have sought to create a product that can help bring a sense of relaxation, calmness, and positive energy to your daily life.
The concept of actively facing the unknown and living a healthy lifestyle is a vital component of our design philosophy. We believe that by actively pursuing this lifestyle, you can ignite a happy, positive, and romantic spark in your life, no matter what challenges you may face.
Our product is not merely functional but also serves as a unique piece of art that can bring a sense of joy to your home or workplace. It is the perfect product for those who strive to be more positive, happy, and romantic in their everyday lives.
In summary, our new product combines the elements of positive energy, sunny vibes, sprinkling glaze, and a happy, positive, and romantic life, all in one item. We hope that it can serve as a source of inspiration and joy for you, as you navigate post-epidemic era living.
Order yours today and take the first step towards a more positive and fulfilling life!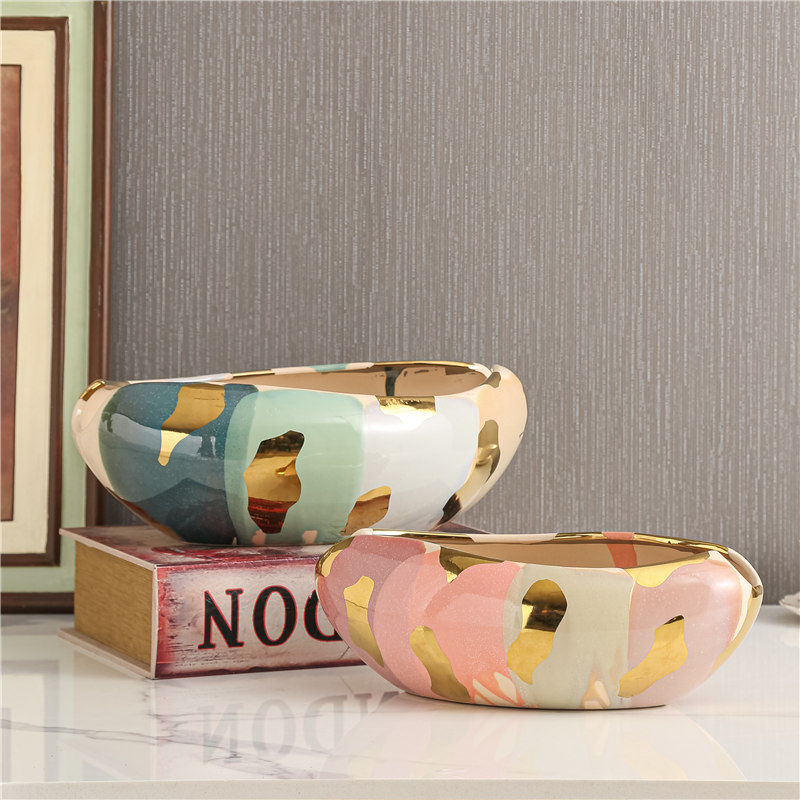 Subscribe to our email list to get information about our latest products and promotions.
---
---