Gold-painting Polyresin Collection with Flower Decal
Product Detail
Product Tags
This exquisite polyresin home decor set decorated with gold hand-painted and ginkgo leaf decal expresses delicate and natural beauty. There're 3 pieces of vase, 2 candleholders, a fruit bowl and a pot with lid. Whether as an addition to your own home or as a gift, this gold ginkgo leaf ceramic ornament set will become the center of attention. Color in silver is also available.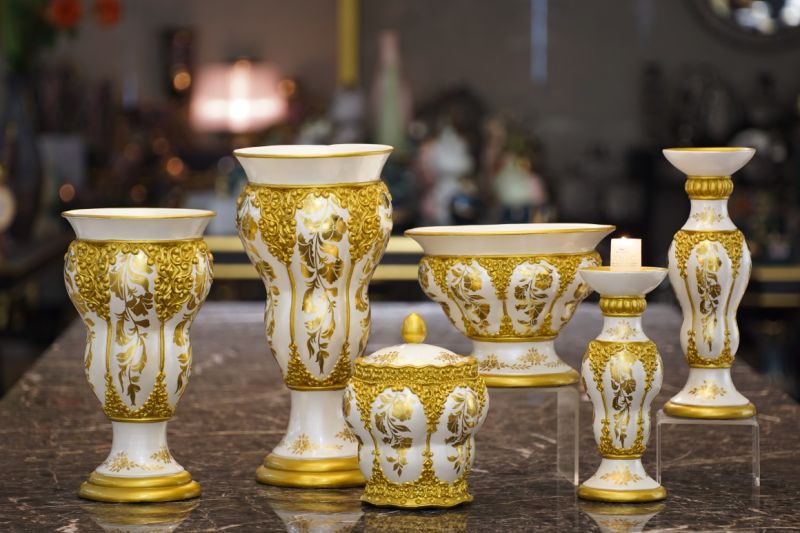 The golden hand-painted craftsmanship shows the exquisite skills of the craftsmen. The hand-painted golden patterns sparkle in the light, adding a sense of luxury and brilliance to the decorations. At the same time, the ginkgo leaf decal decoration adds a vitality and natural beauty to the decoration, bringing a peaceful and comfortable atmosphere.
The heart of this polyresin decorating set is its intricate design. Each piece is crafted with the utmost attention to detail and is meticulously hand-painted with shimmering gold strokes, adding a gorgeous touch to the overall aesthetic. It is more than just simple ornaments, they represent a taste and artistic expression, showcase your eye for beauty and detail and make your home a warm and personal place.
Additionally, the combination of ceramic and decal paper in this set adds a unique texture and dimension that sets it apart from ordinary decorations. The juxtaposition of smooth and lustrous polyresin surfaces with delicate, light paper accents creates an interesting visual contrast.
Subscribe to our email list to get information about our latest products and promotions.
---
---