Luxury Polyresin Home Decor Items with Flower Decal
Product Detail
Product Tags
Introducing our exquisite collection of polyresin craft ornaments, featuring delicate gold strokes and stunning Chinese Rose print, these decorative pieces are captivating, which are perfect for adding a touch of sophistication and elegance to any space. This collection includes 2 vases, a pot with lid, a tissue box, a fruit bowl and a candleholder. Experience the beauty and elegance of our polyresin craft decorations and let them transform your space into a sophisticated touch.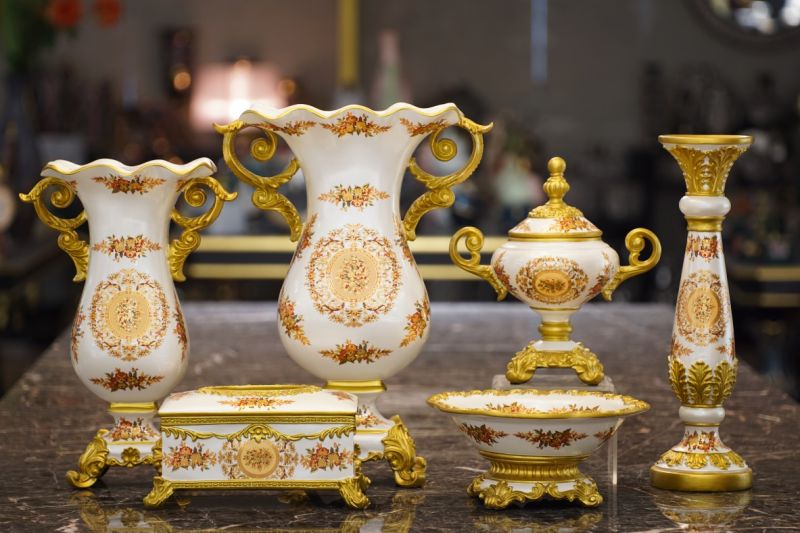 Our polyresin home accents are made from high quality ceramic and are crafted with careful attention to detail to ensure their longevity and durability. The surface of each ornament is embellished with intricate golden lines to meet a sense of luxury. The golden lines not only enhance the beauty of these decorations but also create a stunning contrast with the white polyresin, making them a standout in any environment.
Additionally, these ornaments are decorated with beautiful Chinese Rose appliques. Each decal is crafted with care, and each petal and leaf is carefully shaped and affixed to the ornament. The addition of the rose flower decal brings a romantic and feminine touch to the overall design, making these decorations perfect for adding a touch of elegance to weddings, anniversaries, or any special occasion.
The versatility of our resin craft ornaments allows them to be used in a variety of ways. They can be displayed on a shelf, mantle or coffee table to add an artistic touch to your home decor. They can also be made alone or combined with other decorative elements such as candles or flower arrangements to create stunning centerpieces. Additionally, these ornaments make for unique and thoughtful gifts that appreciate the impeccable craftsmanship and attention to detail.
Subscribe to our email list to get information about our latest products and promotions.
---
Previous:
Round Tableware Set, in Matte
---